SPRING 2021: POTENTIAL POLICY CHANGES DIRECTED BY CONGRESS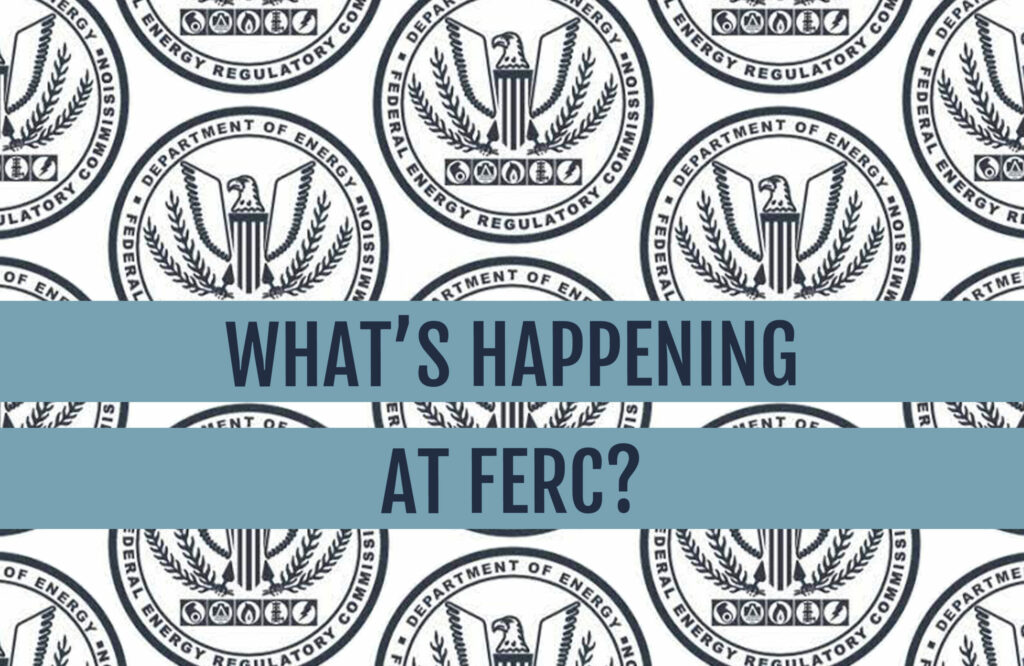 In December 2020, Congress passed the American Energy Innovation Act (AEIA), which was part of the COVID-19 relief bill. Passed under bipartisan leadership, the AEIA included more than 50 new energy-focused measures that aim to modernize energy laws, invest in clean energy technology, and strengthen national security. The bill also required the Federal Energy Regulatory Commission (FERC) to form the Office of Public Participation (OPP) to "coordinate assistance to the public with respect to authorities exercised by the FERC," including assistance to those seeking to intervene in FERC proceedings. This directive was reintroduced in the AEIA from a previous directive pursuant to Section 319 of the Federal Power Act (16 United States Code Section 825q‑1) but was never implemented due to lack of budget for the new office.
Office of Public Participation
FERC quickly responded and issued Docket No. AD21-9 in a Notice of Inquiry soliciting public input on how the agency should establish and operate the OPP and set a public comment period expiring on April 23, 2021. As of April 8, FERC has also held several public virtual listening sessions focusing on various stakeholder groups, including affected landowners, communities of low income and minorities populations (environmental justice), tribal governments, and energy consumers/advocates. In addition, an all-day workshop is scheduled for April 16, 2021 with speakers from various stakeholder groups participating in panel discussions and responding to specific questions raised by FERC staff. See the invited speakers and FERC staff's focused questions here.
Potential Natural Gas Certificate Policy Changes Affecting FERC's Environmental Review
In conjunction with the formation of the OPP, FERC announced that it is revisiting its Policy Statement for Need for certification of natural gas projects, a policy that has been in place since 1999. In April 2018, FERC had already issued a Notice of Inquiry (Docket No. PL18-1) inviting comments on four general interest areas:
FERC's reliance on precedent agreements as a demonstration of a project's need;
the exercise of eminent domain and landowner interests;
evaluation of alternatives and environmental effects under National Environmental Policy Act (NEPA) and the Natural Gas Act (NGA); and
the efficiency and effectiveness of FERC's certificate process. Over 3000 comments were received in the record, but FERC took no action from this initial effort.
In a newly issued Notice of Inquiry in Docket No. PL18-1 dated February 18, 2021, FERC asked the public for new information and additional perspectives to assist FERC in moving forward with its review, including how the agency identifies and addresses potential health or environmental effects of its pipeline certification programs and policies; identifies and addresses potential impacts on environmental justice communities; and determines the need for assessing a proposed project. Specifically, the February 18, 2021 Notice of Inquiry included two questions of the public, aimed at improving the transparency, efficiency, and predictability of the FERC's certificate process, including whether and how certain aspects of FERC's application review (i.e., pre-filing, post-filing, and post-order-issuance) can be condensed or eliminated; as well as whether certain "classes" of projects should face a more efficient process, and, if so, what that process would entail. The FERC intends to build upon the record already established from its initial Notice issued in April 2018. Comments are due on April 23, 2021. In addition, FERC's target date for issuing its Report to Congress on the status of forming the OPP is June 25, 2021.
Environmental Justice
Environmental justice refers to the unequal distribution of environmental negatives (e.g., water and air pollution) among minority and low-income populations. In its effort to revisit the Policy of Need for Natural Gas Certification, FERC poses new questions to the public to help it examine whether (and, if so, how) the FERC should consider adjusting its approach to analyzing the impacts of a proposed project on environmental justice communities. These questions include:
whether FERC should change how it identifies potentially affected "environmental justice communities," including the criteria used;
whether FERC should establish a method for evaluating mitigation for impacts on environmental justice communities; and
whether the NGA, NEPA, or other statutes outline specific remedies for FERC to implement based on factual findings of environmental justice metrics or defined impacts, including the potential rejection of a project otherwise deemed needed to serve the public interest.
FERC currently uses the following methods to identify if environmental justice populations are present along a proposed pipeline route or aboveground facility:
For minority populations, FERC uses the "50 percent and the meaningfully greater analysis method," which analyzes whether the minority population of the U.S. Census block groups in the affected area exceeds 50 percent, or the minority population in the block group affected is 10 percent points higher than the minority population percentage in the county; and
For low-income populations, FERC uses the "low-income threshold criteria method," which analyzes if the percent low-income population in the identified U.S. Census block group is equal to or greater than that of the county.
These two methods are recommended by the U.S. Environmental Protection Agency, and thus are adopted by FERC staff to determine if construction and operation of a proposed project will result in disproportionately high and adverse impacts to minority and low-income populations. Following President Biden's lead with issuance of January's 2021 Executive Orders, FERC is seeking to do more to identify and assess whether its regulatory action results actually impact underserved and potentially vulnerable populations. FERC is hopeful that by reaching out to the various stakeholders affected by FERC's decisions, its future policies will take into consideration important feedback from a wide variety of views.
Other environmental issues, including how FERC undertakes its greenhouse gas emissions and air quality analyses are also under review with the Notice of Inquiry in Docket No. PL18-1.
Closing Thoughts
FERC currently has a fully seated five-member Commission, though potential personnel changes could affect future decisions on directives of the AEIA and the Certificate Policy Statement on Need. In addition, the AEIA requirements directed FERC to have its OPP in place and operating by 2022.
Any new developments will undoubtedly require a change in approach and documentation to meet any new policies, and Insignia Environmental is ready to meet these new challenges and requirements. We will provide regular updates here as these topics unfold.